Don't panic. This virus is infectious, but the death rate is only between 2-5%. It is mostly people who have previous health problems (or currently) such as Heart Diseases, Lung Diseases, etc.
DO NOT PANIC BUYING. You might think... you should buy supplies in a large amount in case it will run out in the future. NO NO NO, that's wrong. Don't. Think of other people too. They probably short on money at the time.
As long you can keep yourself clean, regularly washing your hands in the correct way is already helping you not to get infected by this virus.
Wear a mask only when you are sick. Unless the government or your locals tell you to (or you had to in some circumstances). If you do, please use the mask properly.
Wisely use social-medias. Don't be fooled by fake news (hoax).
It is best that you know better about the virus. Be updated every time.
Making jokes about the COVID-19 is not recommended.
Don't be too focused on how many confirmed cases increase each day, also look at how many recoveries increase each day.
COVID-19 is the name of the
disease.
The virus is named
SARS-Cov-2
. The virus is named after a virus in 2002 which is SARS or Severe Acute Respiratory Syndrome. The disease is called COVID-19 because it is a Coronavirus disease that was discovered in late December of 2019.
Kingdom:
Virus
Ordo:
Nidovirales
(Viruses that infects Animals and Humans)
Family:
Coronaviridae
Upafamily:
Orthocoronavirinae
Genus:
Betacoronavirus
Species:
Severe acute respiratory syndrome-related coronavirus 2
Coronaviruses are named for it's crown-shaped and spikes on their surface. It is divided into 4 types:
Alpha, Beta, Delta, Gamma
Out of all coronaviruses, only seven of them can infect humans namely
229E(alpha), NL63(alpha), OC43(beta), HKU1(beta), SARS(beta), MERS(beta), and SARSCOV2(beta).
This virus has holds
RNA
Genome. Means it is harder to control compare to DNA Viruses such as
varicella-zoster
(chickenpox)
Based on Wikipedia, the virus has sufficient affinity to the angiotensin-converting enzyme 2 (ACE2) receptors of human cells to use them as a mechanism of cell entry. WHAT IS THIS? Think of it as a lock, with the correct key, you are able to open the door.
(credits: eturbonews)
Still, no one is safe. Take Italy for example, based on the data we got, it has 51%. But the current infections have reached 9000 as of March 10th, 2020.
One thing that you need to know that viruses cannot live if there are no cells. This means that the viruses
can not spread through the air
. THEN WHY DO WE NEED MASKS? The virus infects through droplets (a very small drop of water). Every time you speak, there are 100 droplets coming out of your mouth. Every time you cough, there's 1000 droplets coming out of your mouth. Every time you sneeze, 500000 droplets coming out of your mouth. The mask absorbs water. So like, there's no use buying gas masks.
So whenever someone sneezes (sarscov2 positive) in a room and you're like 5 meters away. You are less likely to be infected. Droplets usually travel up to 2 meters. A more deadly virus, such as the TBC, can travel through the air. You will more likely to be infected if someone positive TBC sneezes in a room with you. TBC kills 11 people per hour. However, people paid more attention to the COVID-19 without researching any other existing viruses.
It does. The virus won't start infecting from your hands. It will start on the mucous membrane. Where? Your mouth, your eye, and your nose. Oh.... which part of your human body usually touches those things? Your Hand.
Washing our hands at least 20 seconds using water + soap or hand sanitizer (alcohol). Please use the correct method while washing your hands. Just keep your body healthy, I don't think I need to explain more about this one. Y'all are smart peeps.

You must also know the correct way to sneeze or cough. Always cover nose and mouth when coughing and sneezing with a tissue or flexed elbow.
Avoid close contact (1~2 meters or 3~6 feet) with anyone with cold or flu-like symptoms.
But the other stuff you must know are the symptoms
Runny nose
Sore throat
Cough
Fever
Difficulty breathing (severe cases)
Usually, symptoms may appear 2-14 days after exposure.
If you have any of these symptoms and you are getting worse. Please go to the doctor.
It is best to avoid going somewhere crowded. Even though wearing masks for non-sick people is recommended. But it's not wrong to wear masks to a public area which has many people you don't know.
Read posters or articles about the coronavirus in a trusted site is also good to increase your knowledge.
Just don't panic too much. As a good person, you should be telling others about the Virus that they didn't know about.
Compare to the Dengue virus (DENV), the death rate of DENV is much higher.
Compare to Mycobacterium tuberculosis (TB), the symptoms are much more painful and death rates are even higher.
SARS-COV Chronology (links):
December 2019 - January 2020
February 2020
March 2020
SARS-COV Infections by countries(links):
2019–2020 coronavirus outbreak by country and territory
Video by
Kurzgesagt – In a Nutshell
that would help you understand more.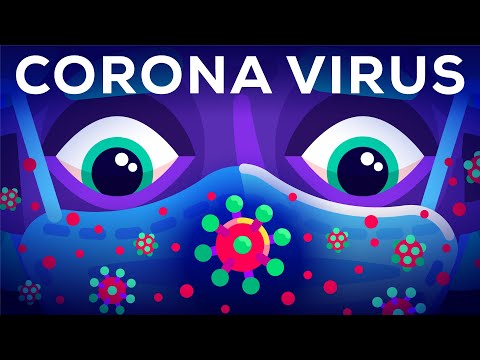 Editor's Note: Typeface that is used on the graphics is
"TT Norms"
by TrueType. This design is not for
Commercial Use.
I HAVE UPDATED THE THREAD TO BE MORE... BIOLOGY-ISH. Compare to the previous one which was too common and everyone should know already.
Any information that might be wrong, please let me know. Trashy Grammar I know.
(sources:
Wikipedia
,
UKRIDA
, Google, CNBC, Indozone, Aljazeera, Popular Mechanics, NPR, Wall Street Journal, Business Insider, BBC, Channel News Asia, New York Times, Twitter, Instagram, LINE TODAY)